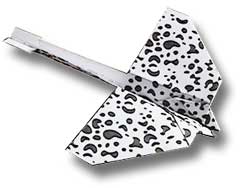 Dog Days
These days everything else has Dalmatian spots, so why not paper airplanes.
Special design page
This model uses a special internet browser page where you will see the design. This is the page you will print the design from. After printing, return to this page by clicking anywhere on the design, or using the "Return" button on your browser.
Printing
Use an ink-jet printer or color laser printer. Print the design on regular white bond paper.
General printer settings
Paper size: 8 1/2" x 11"
Area of impression: maximum
Size: 125% (Windows), 100% (Macintosh)
Position of impression: centered on page
Margins: As small as possible
Printer mode: color
Print quality: fast (medium quality, saves ink)
Set up your printer as close as possible to the printer settings shown here. Now go to the Dog Days design page and print the background.
Wait for the paper dry before starting your project.
Folding the paper airplane



Flip the paper over, image side down, as shown in figure #1.
Fold as shown in figure #2 and #3. Now bookmark this page as you must go to the Best Paper Airplane assembly instructions (steps 1 to12 ). There are 35 steps to complete to finish the airplane.
When you finish, you should have a model that looks just like the photograph at the beginning of this page.
To learn to fly the plane go to How to fly it.